We offer solutions for optimizing the quality and longevity of meat. The above solution is the result of sustainable plant design, equipment selection, practice and hygienic processes.
Products:
Machines for slaughtering animals, with internationally accepted standards.
High level robotics- Robotics / automation is becoming more and more important in the field of slaughtering, cutting and processing meat.
Slaughterhouse control systems guarantee automatic, synchronized transport of meat products, through the cooling system, conveyors. This way traceability guaranteed.
Meat cutting systems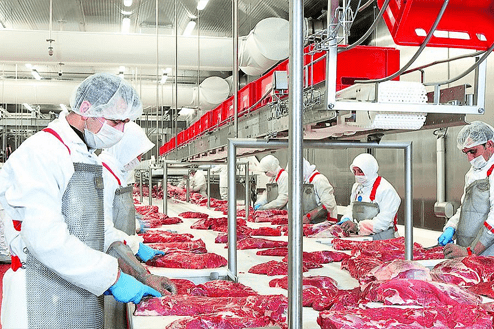 We as Austria Praemix, are representing one of the biggest Slaughter Supplier in Europe, in the Albanian Market. Our Partner BANS more than 28 years is manufacturer equipment for pigs-, sheeps, cattle and horse slaughtering worldwide. Additional to slaughtering technology Banss Austria is one of Europe´s leading companies of automatic transport systems for carcasses into cooling rooms, deboning and expedit with automatic electronic target control.
Our strong areas are:
Pigs Slaughtering
Cattle Slaughetering
Sheep Slaughtering
Materials Handling